Coil over shock absorbers and Air shocks, both taken from the desert racing world, control the simple yet well sorted suspension setup, providing a surprisingly pleasant and drivable car. A 2,000 Kg (4,400 pound) payload can easily be brought virtually anywhere in short time, faster than any means not airborne.
The attention to detail and innovative designs born of the desert are apparent. consider the spare tire mount allowing for quick replacement of the heavy wheels with ease. Or the novel location of the heavy duty Air conditioning unit - not a luxury in the extreme operating conditions Zibar was designed and tested for. a specially sealed air filter with quick access for daily cleaning is another must in areas where sand storms may last day.
After a thoroughly enjoyable drive in the woods and ditches, we asked Ido Cohen what his plans are for a civilian version. "all it takes is money" was his reply... we'll wait a few years for a second hand Zibar!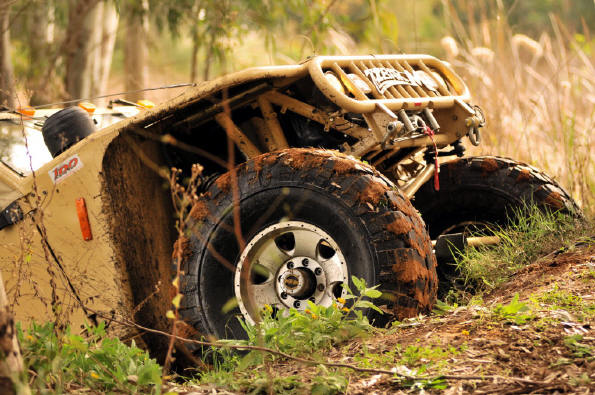 Zibar-M Mk2, Specifications:
Engine: GM 6.2L V8
Gear Box: GM Automatic 6 speed + GM HD transfer case
Axles: Dana 60 front, Dana 70 rear, ARB air locking differentials
Tires: 40/13.5R17 or 42/15.5R17 Pit-bull Rocker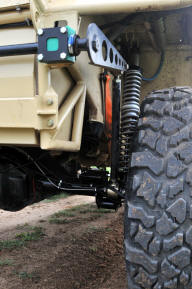 Suspension: 5 link front, 4 link rear, Bilstein 2.5" coil-over-shock + King air shock
Brakes: Ventilated disc brake front and rear
Dimensions: 4,930 mm long, 2,200 mm wide, 1,920 mm tall
Weight: 2,400 Kg curb, 2,000 Kg payload, 4,400 GVW
Ground Clearance: 370 mm minimum, 550 mm under body
Top speed: 190 Km/hr
Range: 950 Km
Ditch crossing: 0.8 m
Climbing: 45 deg
Side slope: 40 deg
Step climbing: 0.75 m
Water crossing: 0.8 m