Welcome to the English corner of Jeepolog.com, Israel's premier off-road and 4X4 website.
Quick facts about this website:
The language on this website is Hebrew.

The main subject in Jeepolog is Tech - building jeeps and other 4X4's, maintenance, fabrication, lifts, lockers etc... Not unlike other hardcore 4X4 websites in the world!

Unfortunately, only select pages which we think may have an international appeal are translated to English... sorry!

If you stumbled upon an interesting page through google image search or such, and would like to know what the %$## is in the picture, drop us a line - [email protected] and we'll get back to you - maybe we'll find time to translate if you think it's interesting!
Quick facts about 4X4 in Israel:
In Israel the word "Jeep" is used generically to describe any 4X4 vehicle.

However, locally assembled CJ and YJ-L "Storm" Jeeps are the most popular hard-core trail rigs.

Approximately half of Israel is desert - the Negev and Judea deserts, rich in natural beauty, historical trails and archeoligical sites dating back to biblical times.

In Israel virtually no open land is privately owned or closed to travel. Freedom to roam off-road is well established.

On the downside, government taxes cars, fuel and everything that has to do with them heavily. The cost of maintaining a Jeep in Israel (normalized by income) is many times higher than in the US.

So we have less jeeps, older and not as well built - but we have lots of trails to explore!
English Articles:
Military Vehicle Field Manuals and Hebrew Service manuals for Israely armed forces tactical Jeeps and trucks
Z-Com fast attack vehicle: Israely proposal for V22 ITV future special forces vehicle
Ido Cohen, famed off-road racer and fabricator from Pardes Hanna, Israel, has teamed up with Can-Am to build Z-Com, a 4 seat highly manuvarable, internally transportable vahicle for the next generation of special operations based on the V22 Osprey tilt-rotor aircraft.
June 2013 / Jeepolog.com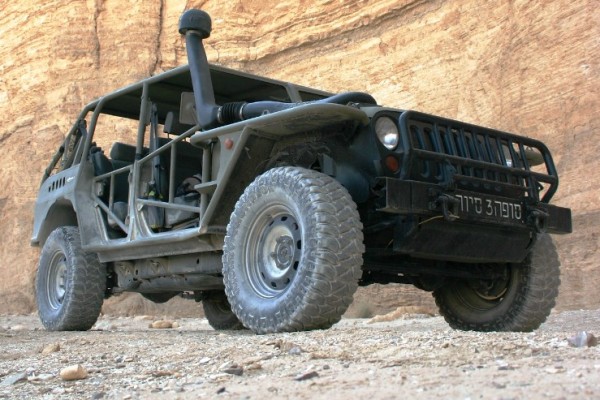 AIL Storm 3 Type R - world exclusive road test
Three years have passed since Jeep J8 (Storm 3 in IDF parlance) squeezed our old Jeepers hearts, and made us dubb it "best ever" Jeep. And now they've gone and made it better, the old school way - take useless stuff off, give it big tires...
July 2012 / Story & photo: N. Meller
Zibar-M Mk2 Light Strike Vehicle, first impressions
The latest military vehicle from Israel, Zibar-M is both fast and off-road capable...
March 2010 /Story: N.Meller / Photos: A.Katzir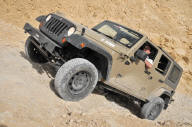 AIL Storm 3, AKA Jeep J8 - world exclusive road test
We take the Israely Armed Forces new Jeep to the heart of the desert, to find a most refined companion - a true Jeep. Too bad we can't buy one for ourselves.
April 2009 / Story & photo: A.Katzir
ZIBAR-M, new light reconnaissance vehicle - world exclusive unveiling
Exclusive first pictures of Zibar-M, a new high performance off-road platform for the border observation and patrol mission.
June 2008/ N.Meller
Dror Cohen's Chevrolet T1 Dakar racer - first look under the skin
Disabled ex fighter pilot Dror Cohen makes his second attempt at the ultimate race in the most impressive racer built in Israel to date. This Chevy powered, 4wd Ido Cohen creation tests awesome...
October 2007 / N.Meller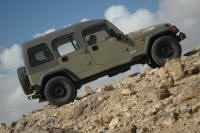 Storm M240 Mk2, Israel's Military Jeep - exclusive test drive
We drive Israel's new standard military Jeep, the TJ-L Storm Mk2
October 2007 / A.Katzir